A Guide to Staying Productive While Working From Home
icreatives blogger
Remote work is becoming increasingly common even without the unprecedented changes 2020 brought us. As many of the elements of traditional office work have disappeared, many creatives are finding it hard to stay on top of deadlines and work tasks. Oddly enough, working from the place where we're most comfortable appears to have taken some creatives out of their professional comfort zones.
It's undeniable that working from home has its benefits. In many cases, suits and skirts can be ditched in favor of sweatpants and t-shirts. Video conferencing may not be the most enjoyable way for team members to communicate, but it's much easier for individuals to share visual representations and web-based resources with the entire team when there's a common chat thread. The ability to log off and cook something nice for lunch can be a huge money-saver, as can the disappearance of the dreaded commute.
Despite these advantages, our homes are filled with many more distractions than traditional offices tend to be. Everything we have for our leisure time surrounds us perpetually. Somehow, working on a computer at home makes it feel much easier to be distracted by social media or web surfing rather than tackling project goals.
The structure of a remote workday has to be self-imposed by the worker to a much larger degree than is typically the case in an office environment. For creatives, the value of deliverables like wireframes or prototypes is even more important when the company is restricted to the digital realm because they're the only way higher-ups can tell creatives have been working.
Though it can occasionally go off the rails, having such direct control over our schedules also offers us the opportunity to structure our workday in whatever way best suits our style and talents. Morning people can front-load their agenda and relax in the afternoon while people who rely on coffee to make it to lunch can put more important items after the break.
One of the best ways to be productive while working from home is to create a timeline for yourself. Divide the day into sections reserved for actions that don't require others like answering emails, doing research, and getting projects to the next stage. It can also be a huge help to organize your surroundings or create a proper workspace as much as is practicable within your home.
There are many other tactics for productive remote work that usually require very little effort to implement. With a bit more mindfulness, creatives can reap all the benefits of working from home without coming up short on their professional obligations.
Productivity for Creatives
A nearly universal truth at creative jobs is that most of the senior talent and team members in non-creative roles just don't understand exactly what creatives do. This is an important consideration when considering what productivity looks like. Is it only deliverables like prototypes, personas, and new iterations, or can it be measured in other ways?
If creatives want to make sure their remote work is as productive as working in the traditional way, there has to be some personal metric for what that productivity looks like. Just as it's necessary to set a progress gauge at the beginning of a project, so too is it required to know whether or not you're performing productive remote work.
Naturally, some standards are set by the employer, but when it comes to the more quotidian tasks, professionals who do remote work are mostly left to their own devices. In this case, productivity should be measured in three categories: time, tasks, and teamwork.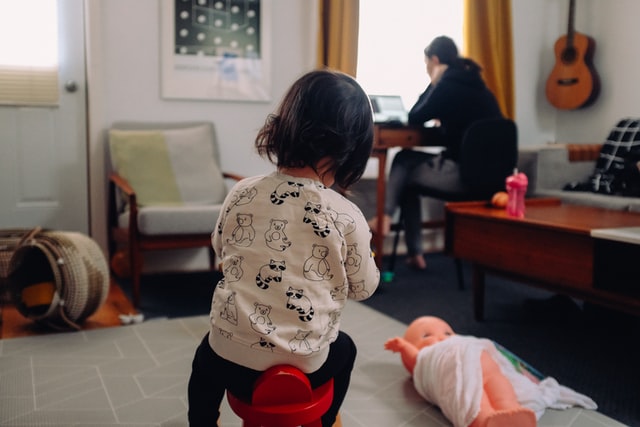 Remote Work & Staying on Schedule
Distractions abound in most homes. Aside from streaming services and social media, the traditional work-home divide caused most of us to stockpile entertainment sources like music, food, books, and other more particular hobbies around our homes. Plus, working from home means coworkers and managers won't be popping by your desk to check in on projects. The removal of that particular annoyance is generally a good thing, but it's critical not to fall behind and risk putting your position in jeopardy.
Even in part-time remote work, creating a general outline for your day can be extremely helpful as a measure of progress and as a way of adding structure to the workday without having to depend on others to schedule video calls or conferences.
Be A Taskmaster: Deliverables of Productive Remote Work
An overreliance on a schedule can create a situation where everything is partly completed. When it comes to deliverables for senior management or clients, there's no faster way to look ineffective or even incompetent than failing to deliver concrete results as promised.
That's why it's so important to prioritize tasks based on their urgency and difficulty when you set up the rough structure of your daily schedule. It's not so much about delineating every single thing you're going to do throughout the day as much as it is about making sure there is time carved out to get to things that are lower on the priority list.
Understanding how long a given task will take you is also important. It takes time, so new talent might not be as familiar with their own work pace, but after a while, you should begin to get an idea of how long you prefer to take on certain parts of a project. Remember, these deliverables aren't limited to wireframes and prototypes. For example, UX/UI designers also use reports, research, personas, goals, sitemaps, user flows and journeys, and usability test results as deliverables, just to name a few of the most common.
Working From Home As a Team
Creatives working in larger companies are very likely members of an art department or a creative team. It's unfortunately all too easy to lose track of emails and messages in company chat platforms, which can cause miscommunication, missed deadlines, and other stressful conditions that seriously limit the effectiveness of a creative team.
Part of making a rough schedule and measuring task completion should include reaching out to the team and letting them know how your work is progressing. When first beginning remote work, the first thing many creatives panic about is the perceived physical distance from their teammates. Luckily, there are many platforms and tools that can keep creatives accessible throughout the workday without making it feel as if they can never escape their coworkers.
Top 10 Tips for Productive Remote Work
Measuring your time and progress and staying in touch with coworkers are very important in remote work. Here are a few concrete ways you can make sure you're successfully taking care of all three:
1- Make a Schedule

It's impossible to tell exactly what will happen on a given day at the virtual office, but that doesn't mean you shouldn't try to outline your personal goals for the day. Whether you prefer to go into great detail or just write a checklist in shorthand, making some sort of schedule is the best way to measure time.
If anyone should ask for deliverables, having a list of accomplishments for the day is the best way to have a ready answer. For an even more organized workflow, consider making a larger checklist of goals for the week, month, and year.
Maybe you aren't the planning type, but this schedule doesn't have to be pretty and needn't be shown to anyone else at the office. It's likely the interoffice communication software you use already adds things to a digital calendar, but the kind of schedule that can help creative stay productive while working from home is more goal-oriented and meant to measure personal progress.
2- Put the Chat to Good Use

Communication with your coworkers shouldn't be constant but since you likely have access to some sort of chatbox there's no reason not to use it, even if it's just for some water cooler talk. Asking for help and providing quick updates on projects are also good ways to use chats and messages. The only mistake most people make is letting their professionalism slide a bit. Working from home certainly makes things feel a bit less serious, but unless the company atmosphere is lax, you should maintain a professional tone in all forms of company communication.
3- Limit Distractions

Depending on the type of work you do, listening to music, podcasts, or even some background television noise might be acceptable. But it's also crucial to limit the number of unrelated audibles in your day. Studies show that the effect of noise exposure on productivity is a negative one.
Some distractions can't be helped. If you have a child or pet to look after, there are going to be some times in the day where you have to step away from the computer for feeding or naps. If you know that to be the case, it's important to factor in such inevitabilities when you're thinking about your schedule and how much work you expect to have done any given day.
4- Keep Your Home Your Home

Working from home is exciting at first, but soon your house or apartment might start to feel more like a trap than your own space. The best way to avoid this problem is to get out of the house for a quick walk whenever possible. If you're lucky enough to have a porch, terrace, or yard, then this will be much easier.
For the many people who live in cities and don't have access to anything more than a window, it's doubly important to take time to walk around the block. If that's at lunchtime, so be it, but if you can find other times to do so, go right ahead.
Setting a definite end to your workday will keep you from feeling like you're sleeping in the office rather than working from home. Make sure you still have a good work-life balance. Just because you can log on at any time doesn't mean you should.
5- Organize Your Office

Cleaning the area where you work and moving distracting items to other places in your home is a great way to reduce distractions and make sure you have plenty of space for whatever tools you need to work.
Organizing your workspace also means delineating it as much as possible. Some days it might be nice to spend the morning working from bed, but if you spend too much time working from the couch then it won't feel like a very relaxing spot to take a load off when the workday is over. Plus, you'll be more focused on your job if you have a physical space to put in the work mindset whenever you log on.
6- Take Advantage of Apps & Software

Working from home was hardly possible at the turn of the century. Now, thanks to team communication apps like Slack and video conferencing platforms like Zoom and Skype, teams and individual creatives can accomplish tons, even working from home.
If you aren't used to these apps or other software that can help you in your creative work, there is likely to be a bit of a learning curve. Don't get discouraged and don't be afraid to ask friends, coworkers, and family members for help. Many apps and software companies have helpful FAQ sections and instruction guides posted on their websites as well. How-To videos are frequently available on streaming sites like YouTube as well.
7- Don't Forget to Network

It might not feel possible when you're sitting alone at your home workspace, but there are plenty of ways you can keep networking even when you work remotely. Far from being a distraction from work duties, networking helps foment more creative ideas, team collaboration, and skill-building in general.
You can network within your own company if it's large enough, or you can be on the lookout for video conferences and online industry discussions. Since working from home has become so much more popular lately, there are probably plenty of opportunities to keep learning new tools and skills online.
8- Try Coworking

If it's practicable and you have friends or coworkers who have also moved on to remote work, consider meeting up to cowork together. Not everyone will be comfortable having people around, but when possible, coworking with friends is a great way to create something similar to an office atmosphere after you've made the transition to working from home.
Coworking is a great strategy because you can do it with people who work a similar job at a different company. Granted, this will be limited by the number of conference calls and video chats each person has in a given day. But on days where you are left to complete your creative work, getting together with a few other people and working alongside each other is a great way to break up the work week and avoid feeling isolated.
If physical coworking isn't possible, virtual coworking is also gaining some popularity with people who have started working from home.
9- Give Yourself a Break

When you first start working from home, there is a feeling that you're getting away with something or constantly slacking off. Maybe that's because there is no in-person supervisor or coworker there to keep an eye on you, but it's more likely because the comfort we feel in our own homes feels somehow misaligned with the duty we feel to be productive at work.
All the tips for productive remote work are great ways to make sure you keep working hard. But remember that you should also take a break now and then. That's not only for your mental state, either. Studies show that sitting for prolonged periods has many adverse health effects. Carve out some time in your schedule to relax a little, eat a fresh and healthy lunch, and go outside when you're able.
10- Make Time for Skillbuilding

Staying on the cutting edge can be difficult for many creatives, so take care to give yourself time to research the latest tactics. You can do so by attending online webinars, reading books, or brainstorming with coworkers and people in a similar field. If you want a good work-life balance, try to carve out a quick half hour each day for research into what people are saying in your industry.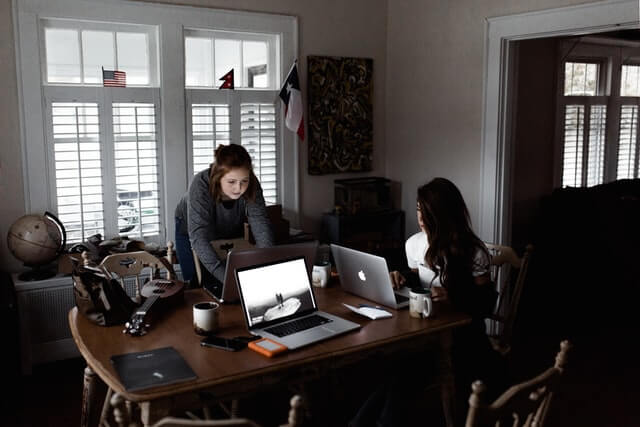 Conclusion:
Remote work has become so common that it's almost lost its novelty. While many people are now working from home, that doesn't necessarily mean that everyone is doing productive remote work all the time.
There are many strategies to ensure productive remote work from creatives, but in the end, you'll have to figure out exactly how to make working from home work for your particular field and role within a company. Once you have a plan and understand how distractions and keeping your work and leisure mindsets separate affect your productivity, you can take advantage of all the benefits of remote work.