Everything You Need to Know About Hiring a Solid Content Writer
icreatives blogger
Whatever product and services your company offers, content is key to communicating it to your customer base. Content is writing and it might be the first interaction a potential customer has with your brand or product. Good content writing should create interest where it didn't exist before and then transform that interest into action – buying or using the product. But where does good content come from?
It comes from talented content writers, of course. If you want your content to stand out in the seemingly endless sea of information we're exposed to on a daily basis, you have to have a solid content writer who can get people's attention and convert that into profitable action for your business. Finding that talent can be a challenge with all the budget freelancers cluttering the labor market.
First, you'll need to understand exactly what kind of content writer is most useful for your business. Do you want a specialist who has tons of experience in one or two areas of research, like real estate or health? Or would a general content writer who can handle any subject going to work out better? Make sure you're actually looking for a content writer and not a similar art department job like a copywriter.
There are many qualities that are surefire indicators of a strong content writer. At icreatives, we've successfully vetted and selected the best content writers and matched these creatives with enterprises that suit their talent. Read on to find out everything we've learned about finding and getting the most out of content writers.
What is Content Writing?
Let's start at the beginning. Knowing what content writing is, what it isn't, and when you should be using it is the first step in finding the write content writer. After all, if you aren't completely sure of what you need, how can you expect someone to provide it?
Content writing is the assembly of information for dissemination among a prospective customer base. Successful content doesn't just lay out your product or brand for consideration, but it invokes and stokes our natural human curiosity to make people want to engage with whatever it is that your business provides. It's not quite technical writing but it likely requires some research to do correctly.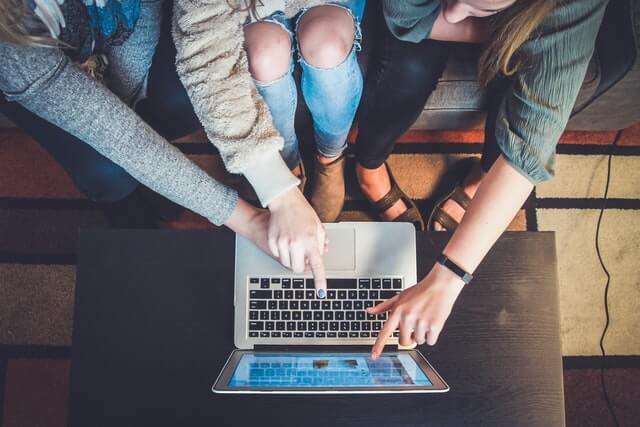 Content Writing vs Copywriting
Both of these creative positions share similar methods but their goals are slightly different. Copywriting is meant to communicate your brand identity and raise their brand awareness. Content is usually longer in form and more informative. It's meant to communicate, explain, and teach about particular aspects of your brand or product. Copy persuades its target to take action, usually to buy a product or service. Content writing may also have this goal, or it can seek to persuade in the process of informing.
Because content writing engages the reader more fully, it can be a hugely successful tool for just about any business. Copy is content but content is not always copy. Content writers may write copy from time to time, but copywriters may not be as comfortable writing longer-form content. Decide which best suits your goals and you'll be much more successful at identifying strong content writing candidates.
How to Hire a Content Writer
If you haven't already looked around the talent pool yet, we can go ahead and tell you that content writers are everywhere. Some do the job as a side hustle, some have gone to school for it, while others just have a natural talent. This last group has proven time and time again to be the greatest asset to art departments. That's not to say that content writing can't be taught, but content writers with a knack for the trade just seem to be better motivated, more interested, and have a stronger voice overall.
All of these characteristics are key to effective content writing. In case you're wondering what else you should be looking for, here's the rest of the icreatives list of requirements for top-tier content writing talent.
9 Things to Look for When Hiring a Content Writer
Bear in mind the goals and uses of content writing when you read through our list and our reasoning for selecting these specific characteristics will be clear. Here they are, in no particular order:
1- The Content Writer's Voice

To activate and take advantage of readers' curiosity, content has to be written in a definitive voice and that voice should be a standout amongst competitors' content. Concise content is always stronger and doesn't waste the reader's time with fluff. Your prospective clients will definitely appreciate that. Novice content writers might cruise toward a given word count like high school students trying to finish a history paper, but there's nothing more lethal to a website's blog or a how-to instructional than useless information.
You do want people to generate clicks with your content and direct possible buyers to the shopping cart or to a contact form. But generating clicks with an intriguing headline that doesn't pay off is going to feel like your company either doesn't know what they're doing or purposefully roped people in just for clicks. Either way, it won't turn out well.
The writer's voice grows more essential as consumers across markets grow savvier of marketing techniques. It's a natural truth that humans crave new information and they want it to interest them. The voice of a content writer should paint a perfectly clear picture, answer questions, and link your brand and product(s) to that idea in the reader's mind.
One important thing to be wary of is a content writer who is more interested in their own voice than in using that voice for your business. Ego is important to assert that your company is knowledgeable and you have faith in what you're offering, but too much of it can render a capable content writer unusable. A balance of humility and confidence is best.
2- Knowledge of Marketing

Beyond just the tools they need to write content, good writers will keep up to date on new strategies and tactics for producing interesting and informative content. There are always improvements in the methods we use to attract attention and transform it into persuasion. If your content writer isn't aware of what the industry is doing, the content they produce will start to feel behind the times to your audience.
This is where the education section of the resume might impress, but there are also plenty of candidates who have work experience that more than makes up for the lack of a degree in marketing or a creative field. When you're talking to content writers, ask them about other content they've seen and found particularly effective. They should be able to state why they liked it and in what way it was effective for them, and hopefully, they can identify how it affected the content they themselves produce. That brings us to our next point:
3- Communication Skills

Just like the content writer's voice is stronger when their product is more concise, so too are ideas easier to understand and more persuasive when the content writer knows how to cut to the chase. This doesn't just mean in their content, either. They should both understand ideas from the rest of the creative team and be able to explain their own. Content writers should know how to write headlines when to use tools like bulleted or numbered lists, and they should also be able to explain these things in a way that fellow employees can understand.
This should be something you look for in all job candidates. For creatives, explaining ideas is imperative for any successful project, especially if there are non-creatives who need to understand how their investment is going to help the business.
4- Diversity in Methods

Content can look like this very article, but there are tons of other forms that you can use. The best content writers know how to write a variety of content, from press releases to slogans and scripts for audio content. Not only will this make the content writer more useful, but it can also allow your company to mix different forms of user-friendly content, which is key to drawing in and retaining consumer interest.
Drafting content for SEO makes your website easier to find for newcomers. Having a content writer that can also draft video scripts will help your company provide information in an easily digestible way. Not everyone enjoys reading long articles or blog posts, so your content writer should be able to help provide video and audio options as well.
5- Particular Knowledge

It's almost a guarantee that a writer who has specialized in one or two topics will produce better and more thoroughly informative content on that subject. If you want to generate tons of content, finding a random freelancer probably won't get you the strongest or most interesting content. However, that doesn't mean you should only take interest in content writers who have already specialized. Consider finding someone with strong research skills and letting them specialize in the most important thing: your company.
When you're vetting candidates, knowing how to discover research skills will save lots of circular questions. Try to suss out what they've written about in the past and ask them how they knew the information they were writing about. This is especially important in when you're looking through a content writer's portfolio. Of course, if you go with icreatives you can bet we've already vetted all our content writers for strong research skills.
6- Respect for the Reader

Brevity is an indication that a content writer holds their readers in high regard that will make the voice of a piece stronger, but respect can be shown in other ways too. Writing in a dumbed-down fashion might appeal to beginners and complete novices, but the audience can also tell when they're being talked down to or when the content itself is dumbed down. Remember that the writer's opinion of the audience is crystallized in the words of their content.
It's not only vocabulary that indicates a content writer's estimation of the public. Sentence structure and grammar usage are other ways, and using them in unique ways can add flow to the content that will make it more enjoyable to consume. Speaking of which:
7- Grammatical Skill

Strong ability with words and grammar is probably an obvious thing to look for in a content writer, but it still merits mentioning because it's not just enough to know all the rules of grammar or have a wide vocabulary. Great content writers should also be able to employ that knowledge in a unique way. How you say something is just as important as what you're saying and creating genuinely interesting content relies on packaging information in a distinctive form.
You could look at words and structure as one aspect of a content writer's voice. But it's important to note that it's not just book smarts that lead to strong grammatical skills. Successful content writers also have the imagination to use it well. This is especially critical if the information they're trying to broadcast to the target audience is fairly technical or dry. Content writers should be able to write plainly to get their point across no matter what the topic is.
8- Talent & Drive

Of course, it would be nice to find a content-writing wunderkind who can craft content exactly as you like it. It's not likely to happen that way, but you should expect to find someone who has an ease with words. They should also have a desire to communicate. It's not everybody who has been affected enough by written words or other media to want to recreate that feeling for others. Even if they don't have technical skills in some areas yet, some content writers have the self-motivation to educate themselves and work on their weaknesses until they are strengths.
9- Teamwork

This ties in with the communication aspect, but teamwork is a skillset of its own when it comes to tying in crafted content with UI/UX designers, copywriters, art directors, and other members of the creative staff. The best content writers are not just happy to work with others but understand the value of multiple perspectives and are eager to workshop strategies and use all the available talent to make the best end product possible.
Effective team players know how to ask for help when they need it and speak up with their own opinions when it really counts. Content writers who know how to work well with others will save lots of time that might otherwise be lost to miscommunication. It's also pretty safe to say that the atmosphere in the workplace will be much more pleasant if everyone works well together, and that goes for real and digital offices alike.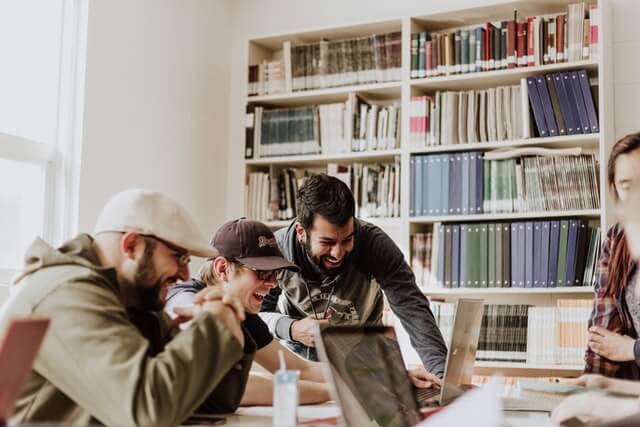 Using a Creative Staffing Agency to Hire a Content Writer
Those are our nine most important qualities to look for in a content writer. If you want to know how effective they are, just look at icreatives' strong track record vetting writing talent and placing them in companies where they can really shine.
If you don't want to go through the motions or can't spare the staff to corral and look through a mountain of candidates' resumes and portfolios, using a creative staffing agency like icreatives that continuously vets talented content writers. That means we always have the staff you need on hand for whenever you need it and you can quickly onboard new staff without having to spend time on the hiring process. Plus, using a creative staffing agency will allow you to test out a content writer to see if that's a position your company needs to take on as a part-time, full-time, or contract position.
Conclusion:
Finding the right content writer can be difficult when there are so many possible options, but there are definitely some telltale signs that a writer can be effective and create interesting, unique content for your company or product. If there's an aspect of what your business offers that takes some explaining, or if you want to create a more sophisticated brand image by creating a more informed customer base, a solid content writer is just the talent you need to get the job done.
Look out for a content writer that can communicate well, work with a team, and has the right balance of confidence and humility to craft content that your desired audience will find interesting and relatable. Make sure they can write content that has a singular voice and the right rhythm to fascinate the reader. You're probably already on the lookout for natural writing talent, but a content writer with heart who is self-motivated to constantly learn and improve is oftentimes more useful to a business than a writer with lots of natural talent who doesn't see any room to do better. If you are looking for a solid content writer, contact us so we can help.