How to Build a Digital Marketing Dream Team in 2022
Natalia Persin
If the events of the last few years have taught the business world anything it is how important it is to have a digital marketing team in place. Although it can be overwhelming to find and train the right people, it is not an impossible task.
Digital marketing is a vital part of any business since more and more people are doing things online instead of in person. This means that your business needs more of an online presence to compete with other companies.
Want to know how to build your digital marketing dream team? Keep reading to find out.
What is Digital Marketing?
Most people in the business world know how vital marketing is to grow and maintain your customer base. Marketing includes anything form of communication to customers or potential customers through various mediums.
As the world becomes more technologically advanced, the need to take marketing to a different level is necessary. This is where digital marketing comes into play and can make a huge difference in how you conduct your business.
Digital marketing takes the process online where you will be able to connect with a broader audience. This type of marketing refers to any advertising and marketing that is done online through various channels such as social media.
What is a Digital Marketing Team?
A digital marketing team is a group of creatives who have come together to develop and maintain a company's brand and online presence. Each member of the team typically has a specific role to play, yet all with a common goal.
The key players come together not only with their creativity but also with their knowledge of technology to create a marketing plan that pushes the company to another level. Between social media, content creation, strategies, and putting it all together, a dream team can work together.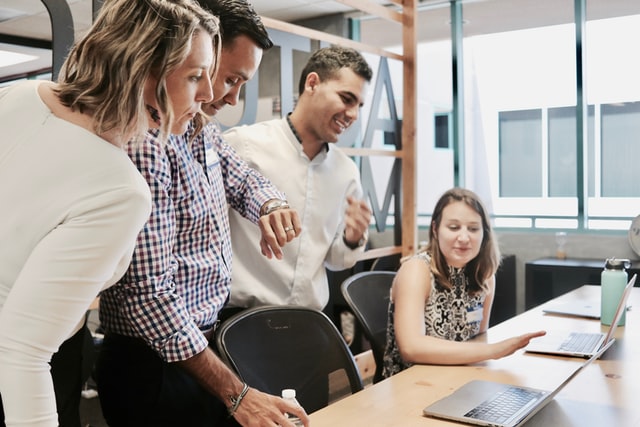 Who Are the Key Players on a Digital Marketing Dream Team?
When it comes to creating a dream team for digital marketing, it is essential to choose not only the right people but the right positions. This is because you can have the best people on the team, but if you are missing a role, you may not produce just the right image you are looking for.
Here are the key positions you need to consider having if you want to create a digital marketing dream team.
Team Leader/Digital Marketing Manager
This team member is the one responsible for getting the ball rolling on all things digital marketing. They typically have been working in the business for quite some time and know what it takes to pull off a successful digital marketing campaign.
Hiring the right person for this position means looking for someone with a track record of being able to lead a team to collaborate with all the key players. Additionally, the manager/leader should be able to constantly foster a culture of striving for excellence.
Marketing Analytics Director
Along with the Digital Marketing Manager, the Analytics Director is vital to the success of the entire team. This is because they are skilled at watching the trends and patterns and applying them to other data to know what works and what does not.
The person you decide to hire for this position should have experience with data analysis when it comes to trends in marketing. This director should have excellent communication skills since they are key to ensuring that everyone is doing what they are supposed to for the campaign.
Content Creators
The content creator role on a digital marketing team tends to vary depending on the size of the company and campaign. Because of this, you could have one person or several working on the content of the marketing campaign.
The best person for this job is someone who has more than three years of experience working with companies in a content marketing capacity. You will need to determine whether or not you want your content manager to also have a team to help with the project.
SEO Expert
Keep in mind that the goal is to create a digital marketing team that has great skills at what they do. None of these positions is more important than the SEO expert since they are the ones responsible for making sure that the company is reaching full visibility on the internet.
Someone who you consider for this position should have much knowledge and experience with various analytics tools. Additionally, you should ensure that they can collaborate with other members of the team about the importance of SEO strategies.
Automation Expert
For this position, the expert works with creating automated processes that make the entire digital marketing campaign run smoothly. These are the folks that work tirelessly behind the scenes to ensure that page visitors are turned into customers without a lot of effort.
To create a position that is not only effective but also part of a dream team, you will want this person to know about SEO and all things marketing. They will need to have a track record of data analysis in the area of marketing, and more specifically digital marketing.
Social Media Specialist
This is the person or persons that are responsible for creating, building, and maintaining a company's presence on social media. This means that they will need to focus on the brand while at the same time creating a campaign that is in line with the rest of the current campaign.
Someone perfect for this team has vast experience in the world of social media. In addition, you will want them to always be looking for ways to improve upon the current campaign.
Email Marketing Specialist
This creative professional is typically an expert in all things email marketing and the latest trends to attract more customers. Since email is their area of expertise, you should expect to see them add a positive spin to the campaign.
Hiring an email marketing specialist for your company can seem like an overwhelming task, especially if you are not sure what to look for. This person should have a proven record of improving the online presence of the company by driving potential customers through the website.
Why Should You Have a Digital Marketing Team?
Having a digital marketing team can help take the burden off other departments by building a team of experts to take care of spreading the word about the company brand. In most cases, especially if the business is smaller, employees tend to wear many hats.
Whether your company is large or small, having a digital marketing team allows others to focus on what they do best while the experts take on the responsibility of building the brand.
How Do You Build a Digital Marketing Dream Team in 2022?
Building a Digital Marketing Dream Team in 2022 is not as difficult as it seems if you follow the advice of others who have accomplished similar tasks. As with anything, if you put forth enough effort, you can accomplish anything you desire.
Check out these strategies to help you build the digital marketing dream team you are looking for in 2022!
Identify your team members
Whether you are planning to go outside of your organization or check out the talent under the company roof, it is important to find the right people for the right positions on your digital marketing team.
This step usually begins with knowing your current staff and their level of knowledge and expertise. You should not be concerned about stepping on toes as you are forming your team since the ultimate goal is to create the best team possible.
Create a pay structure
As you are building your team, there is nothing more important, other than the expertise of digital marketing, than knowing what to pay your people. This is because if you want a dream team, you may have to be willing to shell out more than you would typically.
In most cases, if you want the best of the best on your digital marketing dream team, then you need to consider the pay structure very carefully. Keep in mind that this also includes any benefits and incentives as well.
Define the roles and responsibilities of each team member
So there is no confusion as the team is assembled, you will need to ensure that the roles and responsibilities of each team member are defined well. This can usually be done by creating specific job descriptions for each role.
It is also important to develop a set of norms for the team to work with to ensure that they are not stepping on each other's toes in the process of finalizing the campaign. Typically, the job description will go a long way to clearing this up.
Create an overall and specific goals
No team would be complete or successful without having both overall and more specific goals in place. This is usually done best when the team sits down with the powers that be to create the goals.
By doing this, the digital marketing team can get a better understanding of what the upper management is expecting from them. This will in turn help them and guide their work to create the perfect marketing plan.
Develop an action plan for meeting goals
Once the set of goals is in place, it is time to set up action plans for each of the goals, both the overall and more specific ones alike. This means unpacking each goal and breaking them down into manageable chunks.
In most cases, if you take one goal at a time and create how you are planning to carry it out before moving on to the next one, you will find it much easier to accomplish each one. In addition, it is important to define the role and responsibility of each individual on the team for each action step.
Onboard team members
As you are bringing in new talent either from other departments or brand new hires to the company to add to your digital marketing team, you must orientate them properly. Having an onboarding process can make transitions run smoother.
Part of the onboarding process should include ensuring that each member of your team knows what their job is and what the mission of the team is. From there, you will want to make sure that each member has the training they need to be successful at their job.
Ongoing training and evaluations
Similar to other positions within the company, you will want to provide ongoing training and periodic evaluations of your team members. This will ensure that they are staying current with various trends in their respective role on the team.
Additionally, periodic evaluations will help you determine whether each team member is pulling their weight or not. In most cases, you will know whether someone is lacking the skills you are looking for to create the dream team you desire.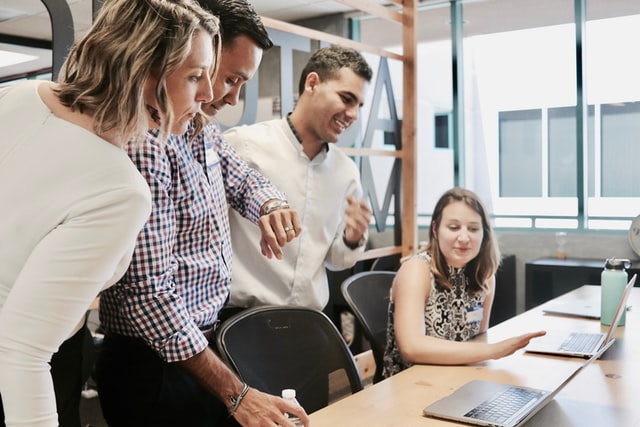 Alternative to Building an In-House Digital Marketing Team
For some companies, having an in-house digital marketing team can seem extremely daunting, especially if the business is small. While they may have the budget to create a dream team in digital marketing, they may not have the space to make it happen.
If this is the case for your company, then you may consider taking the team into a remote work environment. In 2022, more and more people are working remotely, which means that you may not have any trouble finding someone you are looking for.
The above strategies and key players would still apply in the virtual world, however, you may find that you like it much better for this team. One glaring advantage of having a virtual team would be that you can most likely find the best of the best if you can go outside your little world.
There are so many talented people in the various creative industries that you would not have to look far and wide to find the help you need. In addition, you will not have to worry about where you are going to find the space for them, since they are working, just not in the office.
The bottom line is that if you want to build the ultimate digital marketing dream team, you will need to employ the best of the best in the business. As you are building your team, you should take into consideration how the different creative minds might be able to work together in the long run.