Why You Should Write a Thank You Note After an Interview
Natalia Persin
Searching for a job can be an overwhelming and frustrating process since much of the time is spent waiting. The time between filling out the application for a job and the interview and the final hiring decision can be quite lengthy.
When it comes to standing out to potential employers, there are specific things you can do to help hiring managers remember you. One way you can do this is to send out a thank you note to those you interviewed with.
Wondering why you should write a thank you note after an interview? Keep reading to find out.
Should You Follow Up After an Interview?
While it can be easy to focus only on whether or not you will get the position you interviewed for, it is also important to be thankful for being considered. This is why you need to send a thank you note after the interview to those who took the time to spend with you whether it is in person or during a video interview.
Even though many people think this to be an older tradition, it can still make an impact today. In this day and age, you have more choices of how you send the thank you note, whether via handwritten note or through email.
The bottom line is that whether you send a thank you note or find other ways to follow up, this is something that should be done after each interview. Not only does it show the hiring manager that you are interested, but it also is a sign of respect.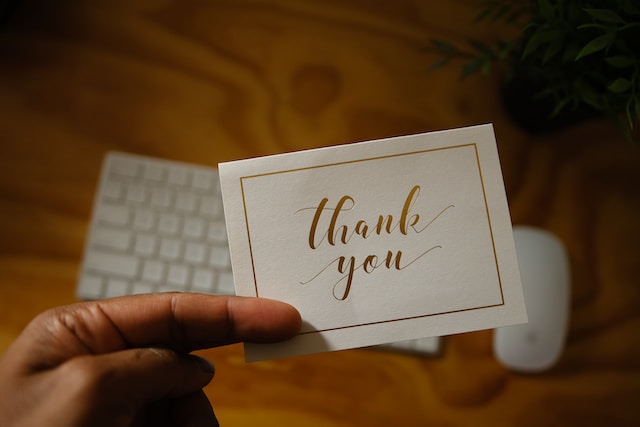 What Are Some Ways You Can Follow Up After an Interview?
As you begin to think of ways you can follow up with the hiring manager or committee that you interviewed with, you are likely to discover many options available. Taking the time to do a bit of research can help you to find just the right way to follow up with a potential employer.
The 24-Hour Later Thank You Note
Once you have completed your application and have interviewed the people who make hiring decisions, the waiting process can be grueling. Oftentimes, you may find yourself questioning the entire interview wondering if you said the right things and presented yourself well.
To help this process become a bit more tolerable, you can send over a thank you note about 24 hours after your interview. This will let the prospective employer know that you are thinking of the experience and are eager to learn the outcome.
This note is typically designed to be short and to the point only as a way to show your appreciation for the time they spent with you. It is also a quick way for you to reiterate your most promising qualifications that would make you great for the position they have.
The Follow-Up Email
In most interviews, one of the last things the prospective employer either mentions is how soon they will be looking to fill the position. If they do not offer this information, it is up to you to ask so you are not left waiting an infinite amount of time.
Once you find out a timeline of when they are expected to decide on the job you have applied for, you can mark this on your calendar. While you want to follow up with them, you should also know that waiting a few days to a week after this period is recommended.
Once a few days or even a week after the time they mentioned they would be making a decision has passed, you should send over a follow-up email or note. This will show them that you are still interested in the job and want to know the status of the decision-making process.
The Phone Call
If you are not one to write emails or thank you notes, but would rather have a more personal touch, you can choose to follow up via a phone call. It is important to note that sometimes a phone call can be a bit more intrusive, so choose the time you make the call wisely.
Keep in mind that if you choose to follow up with a potential employer via a phone call, you should call when it is more convenient. For example, if you are interviewing for a position in a retail store, you may not want to call during peak hours.
When you do decide to call the hiring manager, be sure to make your point quickly and carefully letting them know that you will not take too much of their time. Doing this will let them know that you are not only anxious about hearing back from them but are respectful of their time as well.
The Asking for Feedback Note
Even though hearing back from a prospective employer may be due to you not getting the job, there are reasons you should follow up with them anyway. Asking for feedback is a great way to show them that you have no hard feelings, but also that you want to learn from them.
If you choose to send a feedback note, you will want to ensure that you are being respectful and courteous of their choice, even if it is not you. The note should be professional and focused on what you can learn from them about why you were not selected.
Many people do not choose to send a feedback note since they may feel it is too unprofessional, however doing so can help you gain valuable information. While some companies may not send you the requested information, many others will.
The Change of Status Note
Likely, the one organization is not the only one you have applied to and possibly not the only one you interviewed with. Because of this, the times for deciding for various organizations may not line up.
Should you interview for multiple positions and get an offer for one or more employers, you should consider sending a change of status note to other organizations. This is especially true if one of the other positions is what you would rather have.
Keep in mind that organizations are not likely to wait for your decision indefinitely so you must consider their offer quickly. If you choose to accept a position, sending a change of status note acts as a way for them to take you out of the running for the position they have so as not to waste their time.
Why You Should Write a Thank You Note After an Interview
When it comes to writing a thank you note after an interview, there are many reasons why experts say this is important. While it is not a requirement, you should consider adopting the practice to see what a difference it can make especially if you are applying for a position in a new industry.
Want to know more about why you should write a thank you note after an interview? Keep reading to find out.
Shows Respect and Common Courtesy
The first and most important reason you should write a thank you note after an interview is that it shows prospective employers that you are respectful and courteous. These are both important traits to have no matter what industry you work in.
The hiring manager has likely combed through many resumes and applications and has conducted quite a few interviews. Having someone take the time to show their appreciation can go a long way in the hiring process.
Helps You to Stand Out From the Crowd
In most industries, the competition can be somewhat overwhelming so it is important to find ways to stand out from the crowd. Sending a thank you note in appreciation of them taking the time to speak with you can do just that.
If they are having to look through many applications and resumes and sit through hours of interviews with many different people, you will need a way to stick in their minds. A quick thank you note can go a long way to helping them remember who you are.
Allows You to Emphasize Key Qualifications
When it comes to ensuring that prospective employers understand that you are highly qualified for the position they have, it is important to include this on your thank you note. By doing this with a note of appreciation, it is often seen as a way to remind them who you are.
Although you likely emphasized your most promising qualifications during the interview, reminding them of them in a thank-you note never hurts. It can be helpful for them to be reminded that you may be the best candidate for the job.
Allows You to Include Something You May Have Forgotten
The interview process can be a daunting experience, especially if you have gone on more than one. Because of this, it is easy to forget to highlight certain experiences and qualifications during the interview itself.
When you choose to write a thank you note to the hiring manager, it gives you another chance to say things that you may have missed during the interview. Choosing to include them here allows the potential employer to possibly take a second look at your resume and application.
Provides Prospective Employers With Insight Into Your Writing Abilities
Writing a thank you note to a prospective employer can be a great way to not only show your appreciation for the opportunity to interview but also shows them other features about you. Even though you have likely highlighted your best qualities during the interview, writing a note allows them to see more.
One aspect that a hiring manager cannot see during the interview process is your ability to communicate effectively in writing. Since in this day and age, much of the communication is electronic, this is a great side-benefit to showing your appreciation.
This is especially important if the job you are interviewing for includes a lot of communication, both in person and electronically. Writing a handwritten letter or an email can give them great insight into our ability to communicate effectively.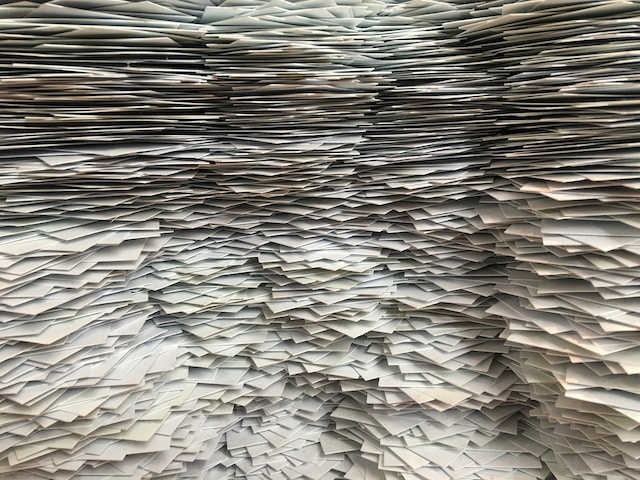 What Should You Include in a Thank You Note After an Interview?
Many people wonder what they should include in a thank you note after they interview for a specific position. While there are many schools of thought on the topic, most agree on a few solid components that will make you stand out from other applicants.
Keep in mind that this will often vary depending on the method you are sending out your thank you note. Whether you are sending out a handwritten thank you note or sending it via email, certain features are important.
Here are some of the most common components you should consider including in a thank-you note:
Greeting or Subject line
Body which includes words of appreciation
Body of most pertinent qualifications for the job you are applying
Call to action – suggesting they contact you if they need further information
A way to contact you
Who Should You Send a Post-Interview Thank You Note To?
In most cases, you should at least send a post-interview thank you note to the person who you interviewed with. This is typically the hiring manager, direct supervisor, or sometimes even the owner of the organization.
However, if you have had the opportunity to meet other people during the course of the interview process, you may consider sending them a note of appreciation as well. The reason for this is to show them that you remember them, which gets them on your side in most cases.
Get Ready to Write Your Post-Interview Thank You Note
Are you ready to start writing post-interview thank you notes to give you a leg up in the job search process? If so, you should take note of the strategies and methods that work best and the reasons to do so in the first place.
You may also want to read more information about certain red flags you need to watch out for during your interview that may change your mind about the company. These can not only give you caution but can help you decide how much follow-up efforts you should include.